Download and Install these fonts to Help Site Appearance
I have never worked with anyone in a Service Related Field
that has outdone him for Hospitality, Dedication and Commitment.
Click on the Logo below to see his other fine Planes

What follows is a result of the Excellent Engineering design work
done by Robert Baslee (pronounced Boz-lee)
and his 25 plus years experience.
Click on Any Image for a Larger Picture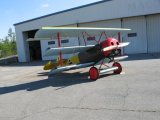 Dustin had an eye on one like Wally Tennison's for a while.
What it will look like -
Dustin is creating a modified Richthofen scheme
similar to the middle image by the talented Russell Smith;
It is flanked by the skilled graphics of Ronny Bar Aircraft Profiles in Dustin's scheme!
Here is a link so you too can own a copy of this, or any of the many other awesome prints by Russ -
http://www.russellsmithart.com/Small%20pages/BringingtheGunsToBear.html
And here is how to reach Ronny if you want him to do any sort of images for you!
(web site is temporarily down)
After Holden - When the REAL Fun Begins!